Using the best vinyl protectant for boat seats you can find is an important part of keeping the vinyl in good condition. It's easy to get caught up in simply keeping the vinyl in your boat clean and looking good, but after the cleaning process a good protectant should be used as well. Using a protectant on the vinyl will ensure it stays conditioned and keeps from drying out and cracking. It will also help prevent dirt and other foreign matter from entering and even staining the vinyl. There are other benefits to a vinyl protectant as well. Read on for more information and some reviews of current products on the market.
Vinyl Protectant vs Vinyl Cleaner
There are two main classes of vinyl products you should understand when conditioning your boat or other vehicles vinyl. There are vinyl cleaners, and there are vinyl protectants. What's the difference?! We're here to explain a little a bout each. Obviously you have come to check out the best vinyl cleaner, but we want you to understand not only how to clean your vinyl, but keep it clean and conditioned to last for years to come.
Vinyl Cleaner
Vinyl Cleaners do exactly what they sound like. They are built to take tough buildup in and on your vinyl such as dirt and stains, and break them loose. Tough cleaners can also be used for removing mildew that might have formed from years of sitting or moisture. While these cleaners do a great job removing unwanted debris and stains, standard cleaners will not provide any kind of conditioning or future protection. If you're fighting extremely dirty conditions, just keep in mind some of the best vinyl cleaners used for these conditions may not contain conditioners or protectants.
If you're looking for a good vinyl cleaner for your boat, be sure to check out our guide on different kinds of vinyl cleaners here!
Vinyl Protectant
Once you find yourself the best vinyl cleaner for a boat, you need to protect the surface you clean. This is where a vinyl protectant comes into play. Once the dirt and debris is removed, a vinyl protectant will condition the vinyl to help restore any damage, and give it properties to help resist dirt from settling in during every day use.
Vinyl Cleaner, Protectant, and Conditioning Combination
Some cleaners contain not only a cleaning solution, but also a protectant and conditioning solution to go with it. It's important to not only keep your vinyl clean but to also keep it protected from drying out and cracking. If you're vinyl isn't horribly stained or covered in large stains and mildew, the best vinyl cleaner for your application may be one that cleans, conditions, and protects all in one. This will save time and take a two step process down to a one step process.
There are pros and cons to these types of cleaners. The obvious advantage we just mentioned is the need to only have a one step application in one product. The disadvantage is the cleaning power in combination products may not be as strong as a product focused primarily on getting rid of harsh stains, mildew, and mold.
---
Product Selection Guide for Vinyl Protectant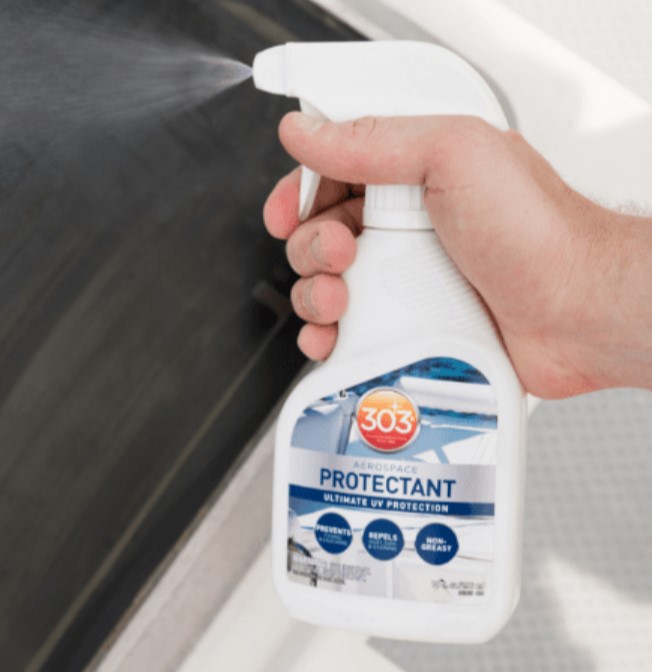 303 Aerospace Protectant is an excellent choice when not only looking for a vinyl protectant for boat seats, but all outdoor materials. This product is 100% free of silicone oils and other ingredients that can cause grease and other nasty buildups. Because of this design, 303 Aerospace Protectant can be used safely on any material or surface. It's built to fight the harsh outdoor conditions brought on by the continuous UV rays from the sun and will ensure your materials are protected.
Restores color and luster in vinyl material
Blocks UV rays from fading, cracking and aging vinyl
Dries clear without any haze
Safe on vinyl, plastics, rubber, carbon fiber, plexiglass, and leather
Container Size
Whether you're looking for a vinyl protectant for boat seats, or a protectant for other materials, 303 Aerospace Protectant should be one you check out. With it's versatility and formulation that makes it safe on all materials, it's definitely a contender for the best protectant on our list.
---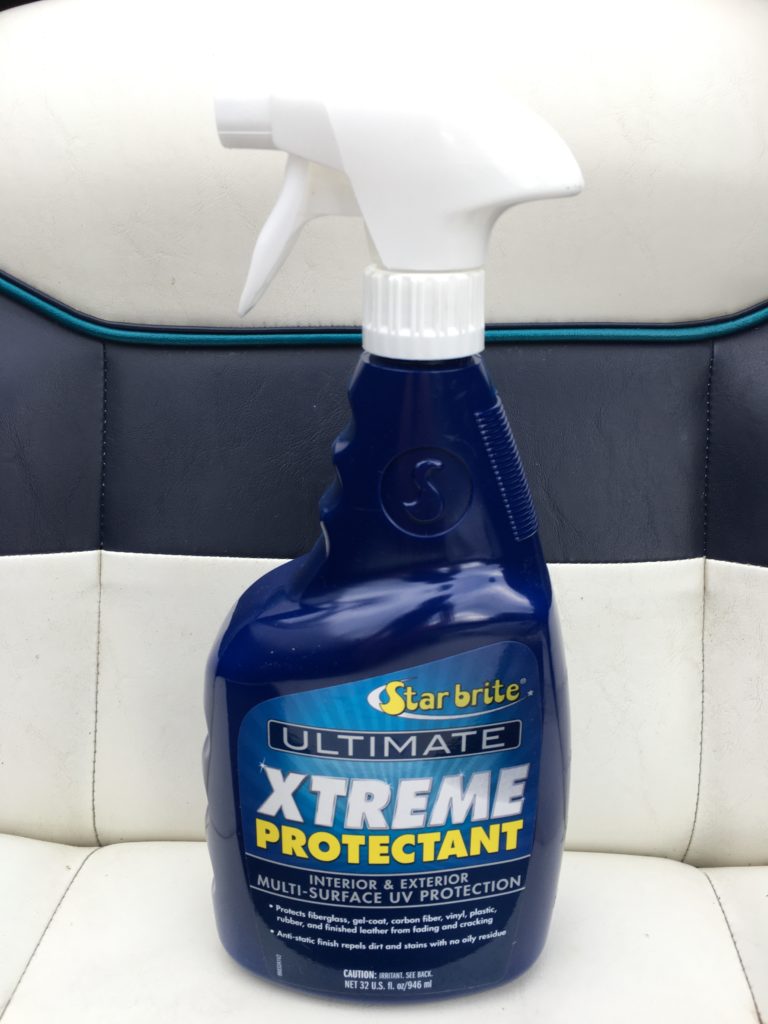 If you've read any of our articles throughout this website, you'll know by now that Star brite has a marine cleaning product for almost everything out there. They've also come out with an excellent product that will help protect multiple surfaces and is one we tested for a vinyl protectant for boat seats. Its formula is shaped to help protect surfaces from the suns harmful UV rays which will in turn keep surfaces from drying out and cracking.
Not only will this cleaner do well with vinyl seats, but is also safe to use on gel coat, carbon fiber, plastic, rubber, and leather. This is a great product to consider for both interior and exterior surfaces and will be sure to not disappoint. Check out our list below for the main features of Xtreme Protectant.
Protects against harmful UV rays
Safe on Vinyl, plastic, rubber, gel coat, carbon fiber, and leather
Moisturizes, removes light grime, and adds shine to the surface it's applied to
Adds a protective polymer coating to keep surfaces safe from the elements
Prevents fading, drying, and cracking of vinyl
Container Size
We've tested a handful of Star brite products and have had great luck with them. Star brites Ultimate Xtreme Protectant is right up there with products that don't disappoint and is one of our recommendations for a vinyl protectant for boat seats.
---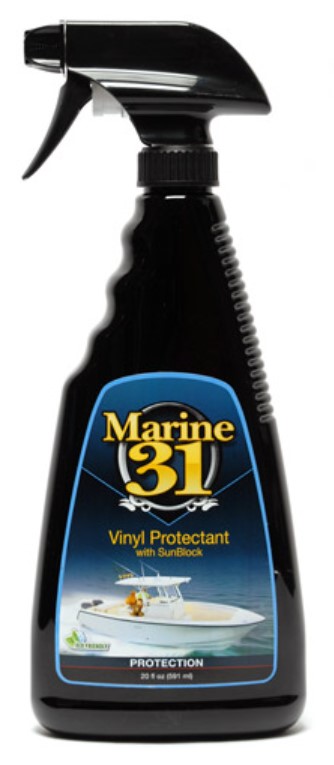 Marine 31 Vinyl Protectant came in with a 5 star rating from those who had used and reviewed it. Marine 31 is another popular brand for cleaning supplies in the marine world that has also come up with a vinyl protectant for boat seats. Their protectant uses a silicone-free formula which ensures the surface isn't left slippery or sticky. Similar to others, it protects against the suns UV rays which keeps vinyl form cracking, fading, and becoming discolored. Check out the quick list below for all of the features.
Protects against harmful UV rays
Protects against cracking, fading, and discoloration
Formulated without silicone to keep surfaces from being slippery or sticky
Eco-friendly formula
Container Size
20 ounces
128 ounces (1 gallon)
We like that Marine 31 Vinyl Protectant is built to be eco-friendly and water safe. With such good features, and being eco-friendly on top, it's no surprise that this vinyl protectant has been ranked high on the favorites list.
---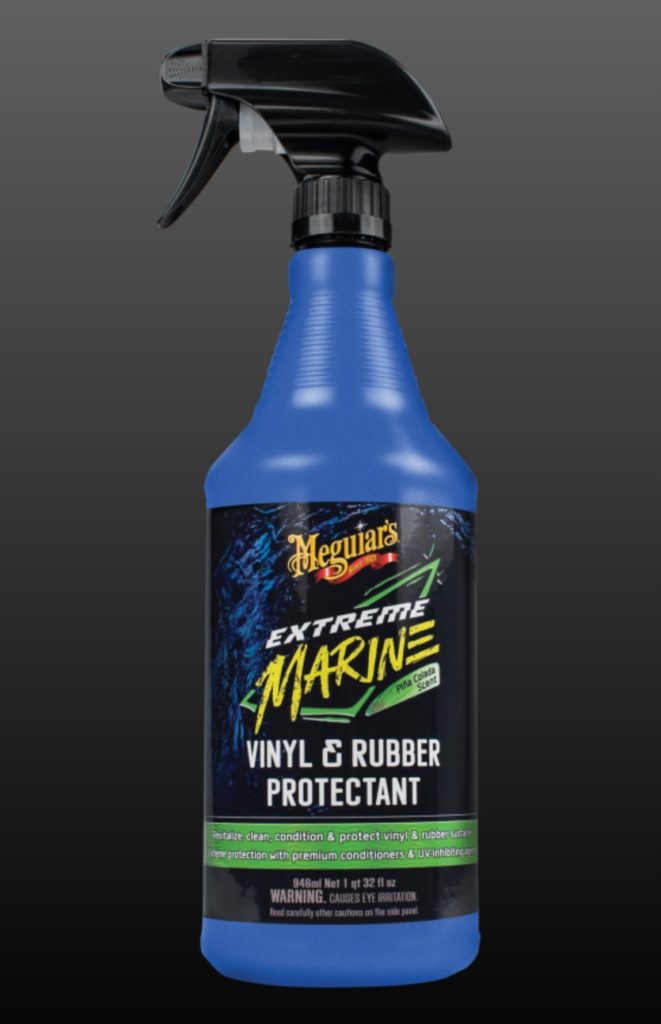 If you've done any kind of shopping for any kind of vehicle cleaners or polishers then you've seen or hear of Meguiar's. They're well known for their excellent products in the car scene and have expanded to the marine scene as well! Their Extreme Marine Vinyl & Rubber Protectant is a highly respected product used by members of the boating community with positive feedback.
Many reviews can be found of vinyl and plastics that have been exposed to the suns harmful UV rays and have been damaged over the years. Once treated with Meguiar's Vinyl & Rubber Protectant, the colors were brought back to life and signs of fading had disappeared! Check out the list of features below.
Provides protection that lasts and also cleans light dirt
Contains a UV inhibiting formula to fight the suns harmful rays
Contains special formula to help condition the vinyl it's applied to prolonging the life
Container Size
With Meguiar's being such a large name in the auto industry, it makes sense their products would be just as well respected in the marine industry. Check it out for yourself to keep your equipment protected and you won't be disappointed.
---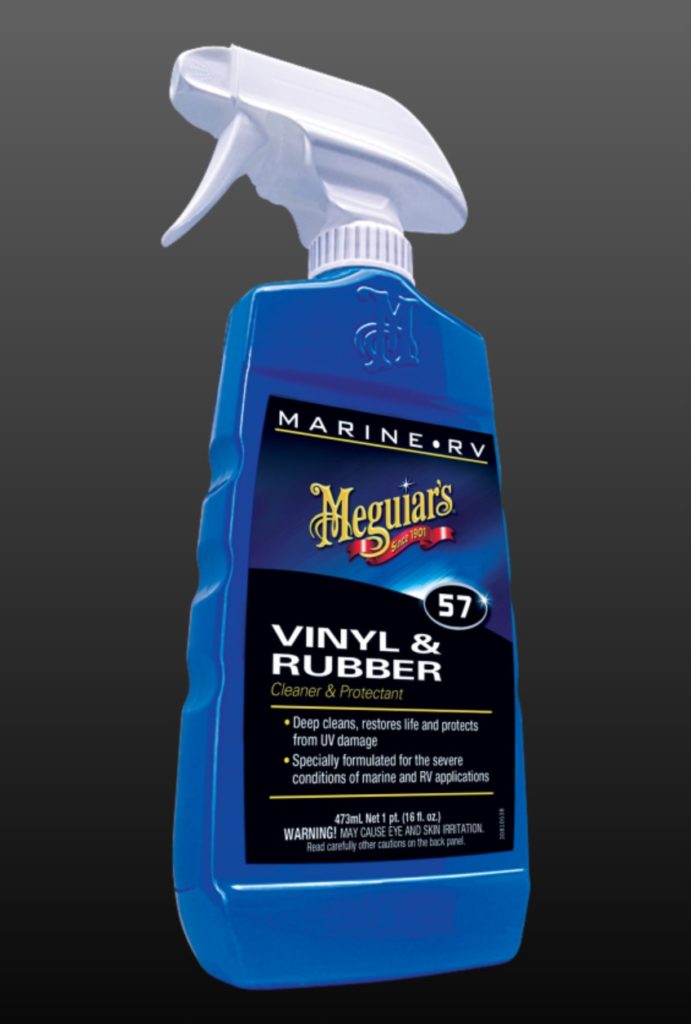 Meguiar's has a second product out that has been on the market for slightly longer than the previous one we reviewed so is naturally slightly more popular. It has been specially designed to treat surfaces on Marine and RV vehicles that need extra protection in their natural environments. Meguiar's Vinyl & Rubber Cleaner & Protectant is built to not only protect, but will clean surfaces as it's being applied. Once cleaned and protected, surfaces are left with a natural sheen that brings the life back into the surfaces it's applied to. As with any Meguiar's products, you won't be left disappointed. Check out our quick list of features below.
Conditioners help keep surfaces from drying, fading, and cracking
Protects surfaces from UV rays from the sun
Leaves surfaces with a natural sheen without using greasy ingredients
Formulated with premium ingredients to keep surfaces protected in harsh marine conditions
Container Size
If you're looking for a great vinyl protectant for boat seats, Meguiar's Vinyl & Rubber Cleaner & Protectant is surely one to consider. Meguiar's has been in the detailing game since the beginning, and has been in the marine industry since the 1950's. Their products are tried and true and are an easy bet if you are trying to decide what to buy!
---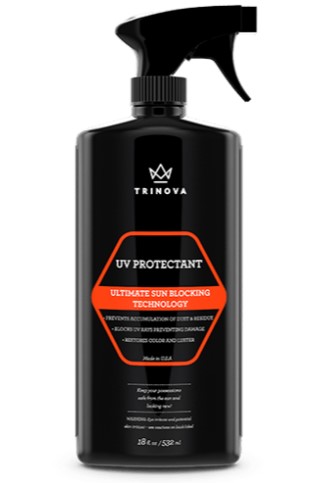 TriNova UV Protectant Spray is an excellent vinyl protectant for boat seats built by our friends at Gold Eagle. Gold Eagle has been around since 1932 when they started working on fluids for vehicle engines and have since branched out to detailing and products to care for various vehicles and equipment. Their UV protectant was built to keep almost any kind of surface clean and protected from the damaging effects of UV rays.
On top of keeping your surfaces safe from the sun, TriNova UV Protectant is also built to repel dust, and keep surfaces from staining. Check out our quick list of features below.
Protects surfaces from damaging effects of UV rays
Works on vinyl, plastic, rubber, fiberglass, carbon fiber, and leather surfaces
Prevents fading, cracking, and staining
Restores shine and color back to sun damaged surfaces
Quick and easy spray treatment
Container Size
TriNova UV protectant is another great product with a lot of good reviews. With Gold Eagle having a full lineup of high quality products that have been around for many years, there's a lot trust their UV protectant will provide similar results. We felt it should be added as a contender for best vinyl protectant for boat seats and will be sure to keep your surfaces protected for years to come.
---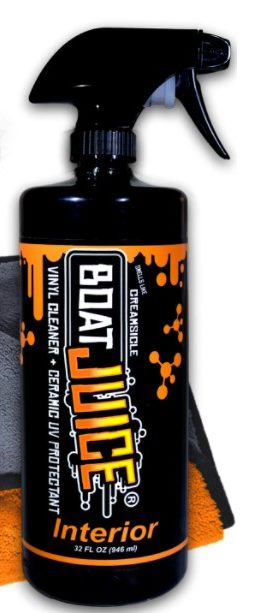 Boat Juice is a company that was founded to create marine products specifically to keep up with the daily wear and tear of boating activities. Their Boat Juice Interior Vinyl Cleaner with Ceramic UV Protection is a vinyl protectant for boat seats that does just that. It can be used on many different materials and acts as both a cleaner and protectant. It is built to leave a ceramic protection on surfaces to help protect them from the elements and keep them looking new. Check out our quick list of features below.
Leaves a ceramic protection on surfaces that is UV resistant
Can be used as both a cleaner and UV protectant
Safe to use on upholstery, carpet, vinyl, plastic, and foam
Cleans stains, spills, and dirt
Great creamsicle smell!
Container Size
32 ounces
128 ounces (1 gallon)
Boat Juice is a newer contender in the market of marine products and are looking to make a splash in the scene. They're slowly growing their line of products and have good reviews thus far. On top of the performance of their products, they also smell great! Check them out today and try some of their products to keep your boat maintained and looking great after daily use.
---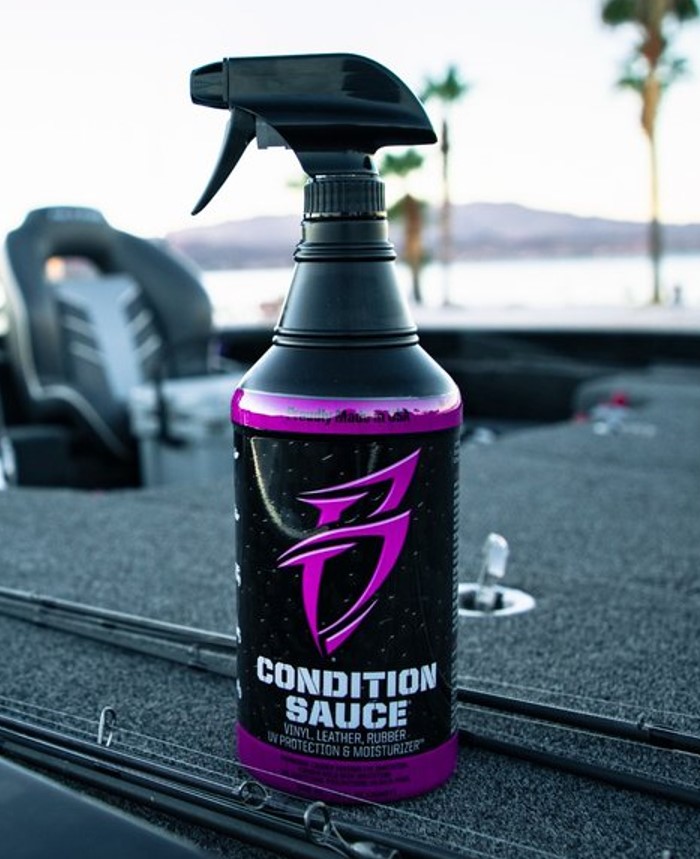 Bling sauce is another young company founded in 2004 and initially aimed at marine products. The products are built by marine enthusiasts who understand the day to day care your boat needs. They have been so successful in creating products such as this vinyl protectant for boat seats, they have expanded their line to cover over industries such as RV's, powersports, and aviation equipment.
Contains a conditioner moisturizer as well as UV protection
Moisturizer keeps surfaces from drying, cracking, and discoloring
Works on vinyl, leather, and rubber surfaces
Bio-degradable formula that is safe for surfaces and the environment
Built to handle tough atmospheres including camper and marine applications
Container Size
20 ounces
128 ounces (1 gallon)
---
Final Thoughts
There are many different options when trying to choose a vinyl protectant for boat seats. Although we can't select the one that fits your needs the best, we hope this guide has at least shown some viable options. Whichever you select, be sure to grab one today to keep your boat or vehicle's interior looking great. The longer you wait, the more abuse they will see, so make sure to protect them today!
If you haven't already, be sure to check out our guide on different kinds of vinyl cleaners here!
---
Smooth Sailing Marine is powered by product recommendation partnerships.
If we have helped you in your product decision or marine project, you can help us by purchasing through our links. We thank you for your support, we couldn't be here without our awesome readers!