If you're looking to operate a marine vessel in the United States, you may be wondering if you need a license to drive on the water. Depending on the state you live in, there may be a license, boating safety course, or both that may need completed. We've put together a quick guide to help determine if you legally need to have a license and certification or not, as well as how you an go about doing so.
Even if you don't technically need a boating safety course certification, it's always good to take the class as it you will learn a great deal about boats and marine navigation in general. It never hurts to have a even better knowledge of the water and could even help save you or others in a sticky situation some day!
---
What is Required in my State?
We've put together some quick links for what each state in the United States requires as well as some additional information below.
---
NASBLA Approved Boating Course Directory
If you log onto the NASBLA website, there are many different options to choose from to take a boating safety course. These include on the internet, virtual, as well as in person classes. We've provided the link below to check out the NASBLA website and find the best way for you to earn your boating safety course license.
Here is the link to boaters safety course directory on the NASBLA website.
---
Free Boating Safety Course!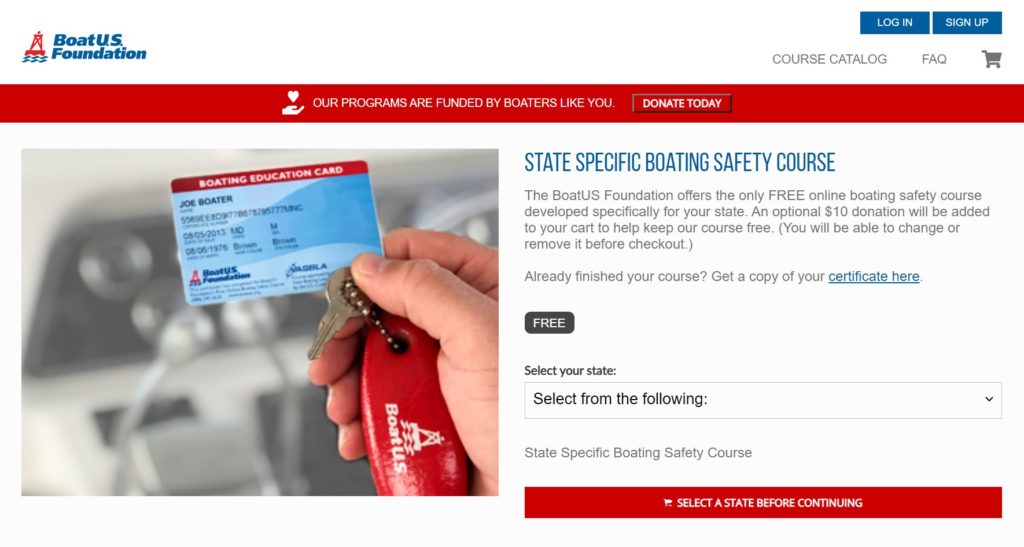 If you don't mind learning online, there is an option for a free boating safety course offered by BoatUS. Yes that's right, free! But nothing is truly free, right? Once the course is complete there is a small fee to have your boaters safety course card printed and shipped to your house, but it's a minimal fee and is to be expected. This course is just as detailed as other coursed and is NASBLA approved so there is no need to worry about corners being cut. Check out the link below and you won't be disappointed!
Here is the link to the free boating safety course offered by BoatUS.
Final Thoughts
Understanding what is required to legally operate a boat in each state is not always intuitive. On top of that, each state has different laws, rules, and regulations. It's easy to be confused about what may be required in your state. We hope this guide has made it easier for you to not only understand what is required, but also get the right resources to meet these requirements and obtain the required items! Now it's time to hit the water and be safe!