Part of maintaining your boat each season is ensuring you have the best vinyl cleaner to keep your boats interior in tip top shape. Each year while soaking up the sun, there's a time period where the weather gets the best of your boat. Lets face it, its inevitable. The only thing we can do is make sure we provide the best preventative treatment as well as provide the best treatment to overcome the elements.
---
Vinyl Cleaner vs Vinyl Protectant
There are two main classes of vinyl products you should understand when conditioning your boat or other vehicles vinyl. There are vinyl cleaners, and there are vinyl protectants. What's the difference?! We're here to explain a little a bout each. Obviously you have come to check out the best vinyl cleaner, but we want you to understand not only how to clean your vinyl, but keep it clean and conditioned to last for years to come.
Vinyl Cleaner
Vinyl Cleaners do exactly what they sound like. They are built to take tough buildup in and on your vinyl such as dirt and stains, and break them loose. Tough cleaners can also be used for removing mildew that might have formed from years of sitting or moisture. While these cleaners do a great job removing unwanted debris and stains, standard cleaners will not provide any kind of conditioning or future protection. If you're fighting extremely dirty conditions, just keep in mind some of the best vinyl cleaners used for these conditions may not contain conditioners or protectants.
Vinyl Protectant
Once you find yourself the best vinyl cleaner for a boat, you need to protect the surface you clean. This is where a vinyl protectant comes into play. Once the dirt and debris is removed, a vinyl protectant will condition the vinyl to help restore any damage, and give it properties to help resist dirt from settling in during every day use.
Vinyl Cleaner, Protectant, and Conditioning Combination
Some cleaners contain not only a cleaning solution, but also a protectant and conditioning solution to go with it. It's important to not only keep your vinyl clean but to also keep it protected from drying out and cracking. If you're vinyl isn't horribly stained or covered in large stains and mildew, the best vinyl cleaner for your application may be one that cleans, conditions, and protects all in one. This will save time and take a two step process down to a one step process.
There are pros and cons to these types of cleaners. The obvious advantage we just mentioned is the need to only have a one step application in one product. The disadvantage is the cleaning power in combination products may not be as strong as a product focused primarily on getting rid of harsh stains, mildew, and mold.
---
Product Guide for Choosing the Best Vinyl Cleaner
We've put together a quick summary of 10 of the most popular vinyl cleaners we could find on the market. This should help you determine what the best vinyl cleaner for your application is and give you an opportunity to see some of the work the products have done with a few pictures and videos. Read on to find the best vinyl cleaner for you!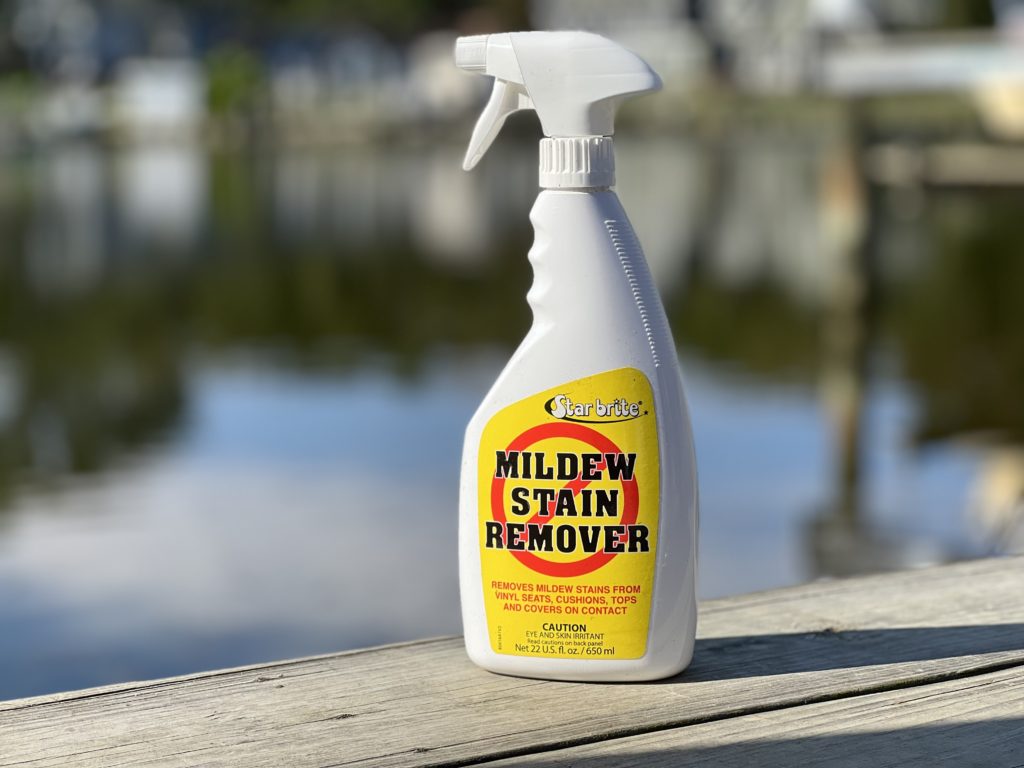 Star Brite is one of the most well known companies in the marine world and there's a good reason for it. They did it again with another great product to remove mildew, dirt, and stains on vinyl surfaces. Their Mildew Stain Remover is built to remove some of the toughest buildup that may occur on your boats seats or other vinyl surfaces. If you're looking for the best vinyl cleaner for your boat, make sure you add this cleaner to your list of cleaners to check!
Be sure to check out the video below to see Star Brite Mildew Stain Remover in action. It will make you a believer and you won't be disappointed.
Removes heavy mildew and stains with minimal scrubbing
Will not harm vinyl or stitching
Comes in a spray bottle, ready to use
Safe to use on vinyl, fiberglass, rubber, and painted surfaces
Container Size
22 ounces
32 ounces
128 ounces (1 gallon)
Mildew Stain Remover is a great addition to your cleaning supplies. Obviously its tough nature and quick stain removing properties were first on our list. In addition to being great on vinyl, we like that it can also be used on other surfaces whether it's inside, outside, on your boat, or in your house. Whatever the job may be, Mildew Stain Remover is up for the challenge.
---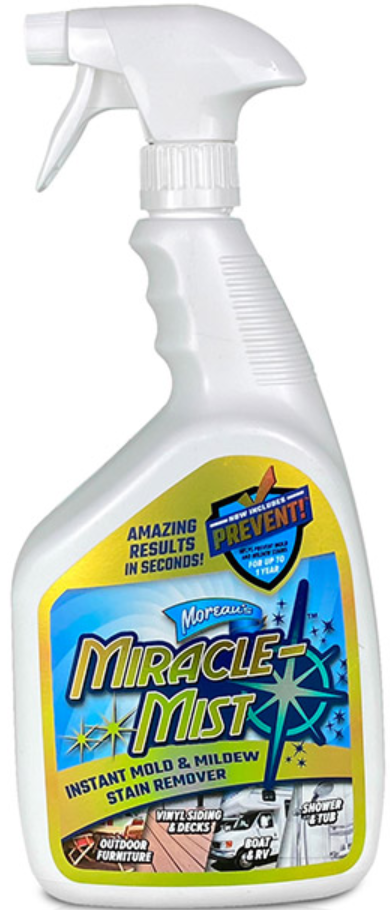 Moreau's Miracle Mist was a hidden gem we stumbled across during our research for the best vinyl cleaner. We were so impressed we wanted to make sure to include it in our collection and spread the word. Miracle Mist is one of the toughest mildew fighting products and will not disappoint you on your quest for the best vinyl cleaner.
Miracle Mist starts working instantly once applied. It boasts an extremely quick 30-60 second clean time and can simply be rinsed off on lighter jobs. It's on the stronger side, so make sure if you're using it you have plenty of ventilation, or consider a lighter product if you don't have heavy stains.
Works instantly and cleans in 30-60 seconds
Works on mildew, black mold, algae, dirt and other stains
Higher concentration for the toughest jobs
Can be used for both inside and outside jobs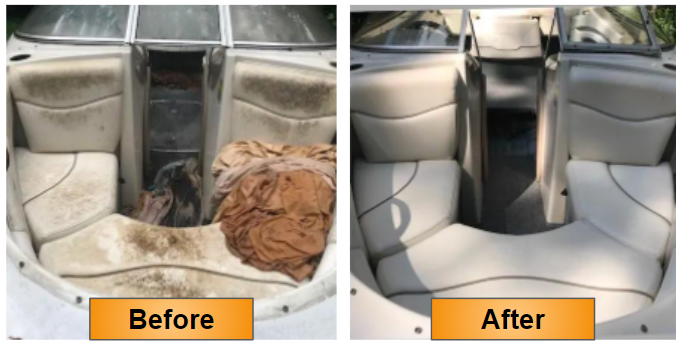 Container Size
32 ounces
128 ounces (1 gallon)
Miracle mist is not only one of the best vinyl cleaners but it can also be used on other surfaces as well. Once you're done cleaning your boat, take it in the house and use it to remove stubborn stains and buildups in your bathroom too! It's a great cleaner that can be used for many jobs.
One of the other standout features we enjoyed about Miracle mist is its fast acting nature. It starts working immediately and will have your surface clean in a matter of seconds. This was one of the most impressive items that made us add it to the competition for the best vinyl cleaner. Check out the video below to watch it in action!
---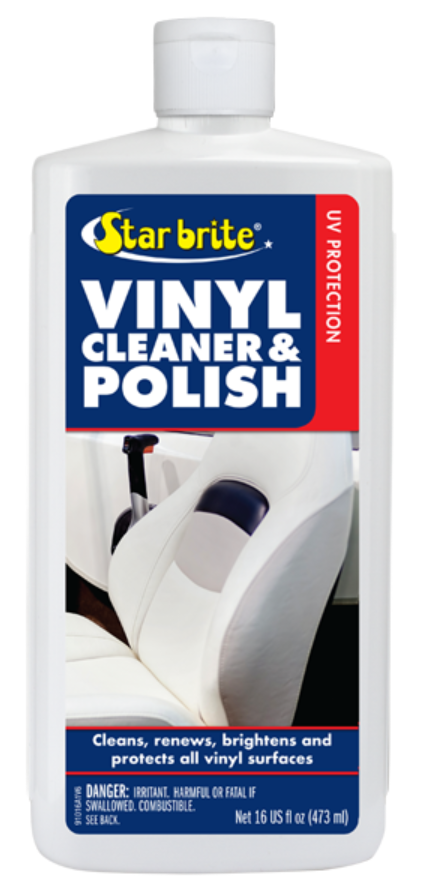 Star Brite has another vinyl cleaner that is focused primarily on vinyl where some of their other products can be used on other surfaces too. Their Vinyl Cleaner & Polish does provide more than just a deep cleaning which may make it the best vinyl cleaner for you.
Not only will Vinyl Cleaner & Polish clean deep into a vinyl surface, it will also add future protection. This cleaner will keep your vinyl from drying out and cracking which is essential if it's going to be out in the sun on a boat. On top of keeping your vinyl soft, it will also protect again UV rays. Over the years UV rays will cause damage to your vinyl even if you don't even use it.
Works deep into vinyl to remove dirt and stains
Protects against harmful UV rays from the sun
Adds waterproof protection
Prevents drying and cracking, keeps vinyl soft
Container Size
We like Star Brite Vinyl Clean & Polish because it is an all in one type of cleaner. If you're looking for a one stop shop, this might be the best vinyl cleaner for you. Typically, as our article starts with explaining, your rig would benefit from both a cleaner and a protectant. Star Brites Vinyl Cleaner & Polish does both for you. If your vinyl isn't in horrible condition and you don't require an extremely strong product to remove heavy mildew and stains then this is would be a good solution for you.
---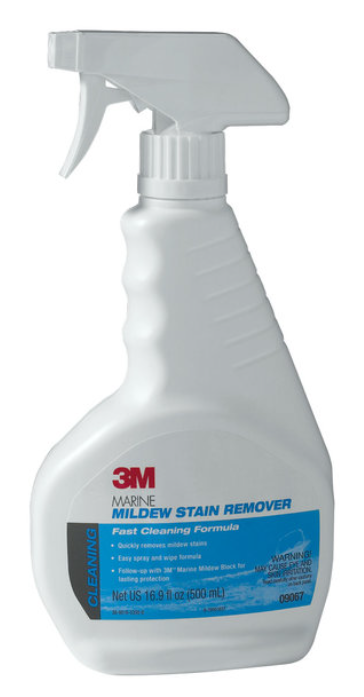 Here's another great product that we wanted to include in the lineup for the best vinyl cleaner for your boat. 3M makes a great product in their Mildew Stain Remover specifically made for marine applications that are subject to water on a regular basis. Mildew Stain Remover is formulated to penetrate materials to ensure mildew and the growth of mold is stopped from the very base.
Not only is the Mildew Stain remover one of the best vinyl cleaners for mildew and stains, it can also be used on other surfaces and materials throughout your boat. We've put together a quick list with a few key features of 3M Marine Mildew Stain Remover below.
Easy spray on container
Works on vinyl plus additional surfaces
Eliminates mold growth by penetrating surfaces to stop from the source
Cleans mildew and stains to restore surfaces
Container Size
We wanted to add 3M Marine Mildew Stain Remover as a contestant for best vinyl cleaner because it's an overall well rounded product. Not only does it fight harsh mildew, mold and stains, but it's flexible as well. Mildew Stain remover is formulated for not just vinyl but also canvas and upholstery. That means even after you're done cleaning your seats, you can still use it in other areas of your boat without having to purchase an additional cleaner. As you can see by the pictures, 3M Marine Mildew Stain Remover won't let you down and is one you should keep in mind when choosing the best vinyl cleaner for your needs!
---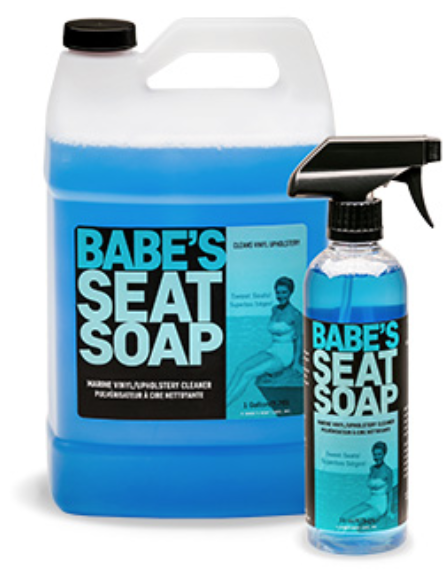 Babe's Seat Soap is another best vinyl cleaner if you're looking for something that is not over the top in cleaning power but can provide additional care to your boats vinyl. The Seat Soap is built to easily remove dirt, scum and oils. On top of that, it also contains a solution to help condition your vinyl and bring it back to its original condition. Being specifically designed for marine conditions, it can handle the tougher environment that comes with being exposed to moisture, dirt, and other elements in the sea.
Babe's has a line of marine products and has been in the industry for over 50 years. They have experience working with marine conditions and take care when creating products for such applications. Check out our list of notable features below.
No harsh chemicals, safe on vinyl and fabric
Formulated to fight dirt, scum, and oils
Enhances vinyl and adds protection as it cleans
Environmentally safe
Marine grade, built for extreme marine environments
Container Size
16 ounces
128 ounces (1 gallon)
Check out the pictures and video of Babe's Seat Soap in action if you're considering it for the best vinyl cleaner of your choice. We like the fact that this cleaner is not full of harsh chemicals and is built to enhance the vinyl it is applied to while cleaning it at the same time. Unlike other extreme cleaners, Babe's Seat Soap is a one stop shop with cleaning and conditioning all in one. No need to clean with one product, and protect with another. Check out Babe's Seat Soap today!
---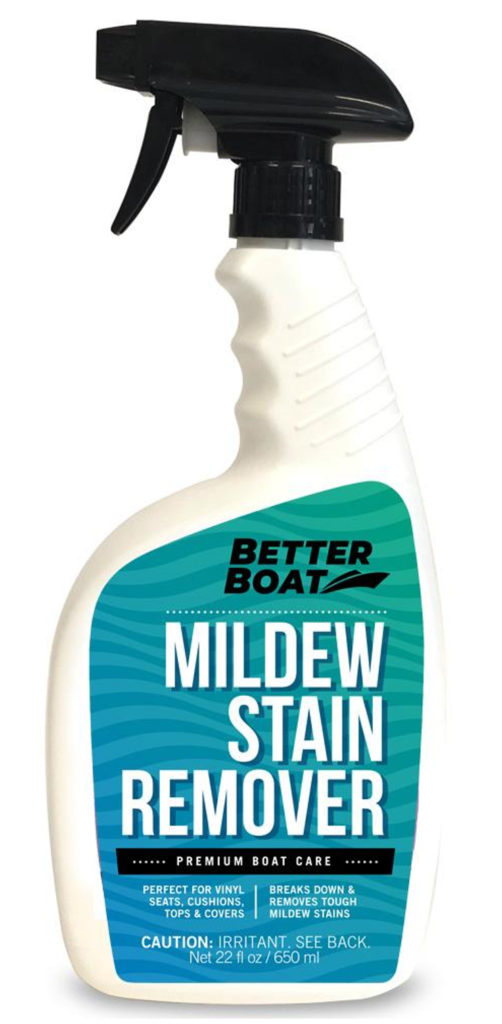 Better Boat Mildew Stain Remover is another great product that is not only one of the best vinyl cleaners but is great on other materials as well. Some of the materials Mildew Stain Remover works on includes vinyl, fiberglass, plastic, tile and grout, canvas, and others as well. This product works on contact to break up and dissolve stains and doesn't require vigorous scrubbing.
On top of the fast action deep cleaning Mildew Stain Remover does, it is also a preventative. Even after this cleaner has rid your surface of dirt and stains, it will continue to work to keep your material free of mold and mildew! Check out the quick list of features of Mildew Stain Remover below.
Works on contact to remove mildew stains without hard scrubbing
Continues to work to prevent mold and mildew even after cleaning
Safe on materials including vinyl, fiberglass, plastic, rubber, and painted surfaces
Great for other uses such as around the house or on an RV!
Container Size
We like Mildew Stain Remover obviously because it's tough on stains and safe for use on many materials. But on top of that we like that it continues to work even after it and the dirt are wiped off of your surface. You can rest well at night knowing you won't have to continue to fight mildew as Mildew Stain Remover is still working! Check it out if you think it might be the best vinyl cleaner for you!
---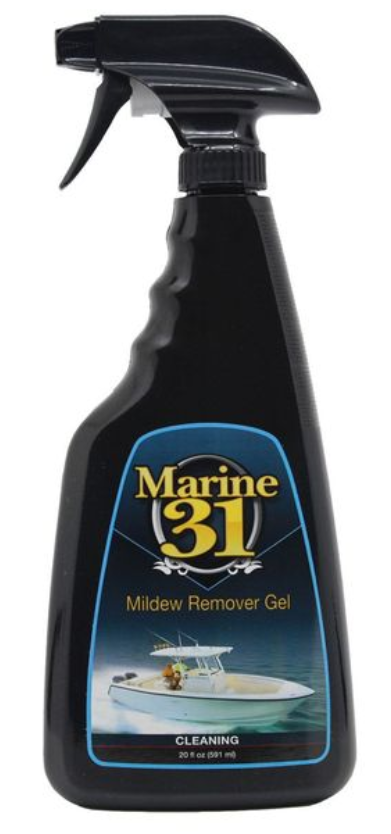 Marine 31 Mildew Remover is built to remove mildew and mold stains without damaging vinyl surfaces. This includes drying , discoloring, or making it dull after use. Not only is it good for removing mildew on vinyl, but is also usable on other materials such as fiberglass, rubber, canopies, and plastic.
For best results, Marine 31 recommend spraying the surface and allowing the product to soak for 1-3 minutes. If stains and dirt are extremely tough, use a brush or towel to help break the dirt down. We've listed a few quick features of Marine 31 Mildew Remover below. Check them out to see if it's the best vinyl cleaner for your application!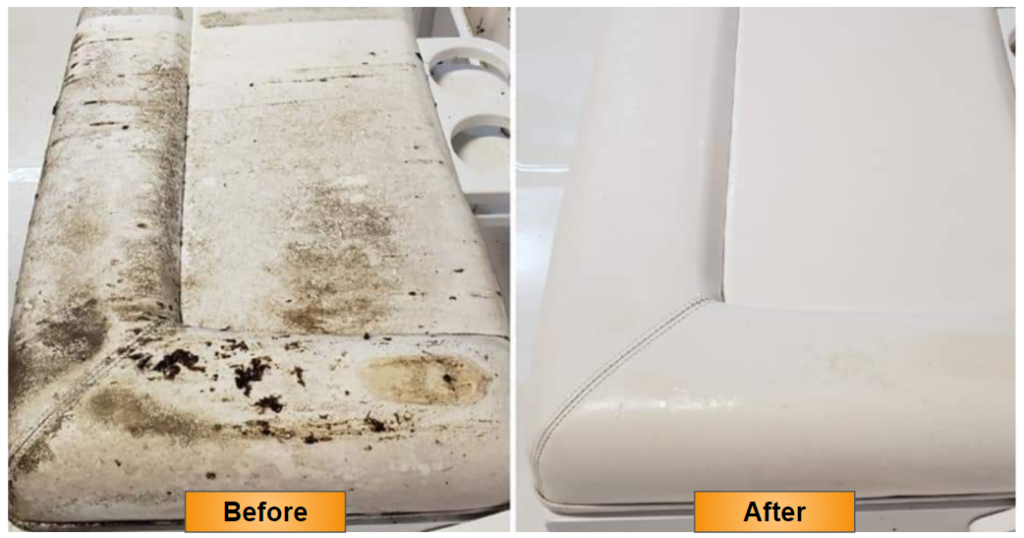 Container Size
20 ounces
128 ounces (1 gallon)
Marine 31 Mildew Remover is very powerful. In our research we found it's an excellent candidate for the best vinyl cleaner if you are looking to tackle a tough job. By watching the video below, you can clearly see Mildew Remover doing an excellent job on seat cushions that had been exposed to the elements for quite some time and formed mildew on them. Mildew Remover does a fantastic job cleaning, but it is not built to continue to protect your vinyl. So if you have an extreme job and have chosen Marine 31 Mildew Remover as your best vinyl cleaner, make sure to pick up a bottle of vinyl protectant to keep your vinyl protected from the elements!
---

Boat Bling has come out with some great detailing products recently and their Vinyl Sauce is one to add to the list. This cleaner is great for keeping your boats upholstery in top condition and is great to keep it maintained. It doesn't contain harsh chemicals and other additives that may damage your vinyl, but it's also intended for lighter use and maintaining that clean look. On top of removing light dirt, oils, and mildew, Vinyl Sauce also contains wax sealants that will help keep whatever surface you are using it on in good condition and protected against mildew and other elements during use and storage.
If the best vinyl cleaner for you is one you're looking to use between each use of your boat or the occasional wipe down, Vinyl Sauce is one you need to check out! We've compiled a list of features below.
Can be used on vinyl, leather, and plastic surfaces
Removes lighter dirt, grease, grime, and mildew
Safe on surfaces and does not contain harsh chemicals
Contains a protectant to help keep your surfaces conditioned and protected after use
Container Size
32 ounces
128 ounces (1 gallon)
Boat Bling Vinyl Sauce is a great product we recommend for keeping your boat looking in great shape throughout the year. It's not intended for heavy duty cleaning jobs and may not remove heavy mold, mildew, and stains as well as others, but it still does a great job.
We found it to be great to keep aboard the boat to give a quick cleaning when the seats and other vinyl surfaces need a good cleaning after a few uses. We also like that it helps protect your vinyl and keep it maintained. So if you're looking for a great cleaner and detailer without the need for extreme chemicals, Boat Bling Vinyl Sauce may be the best vinyl cleaner for you!
---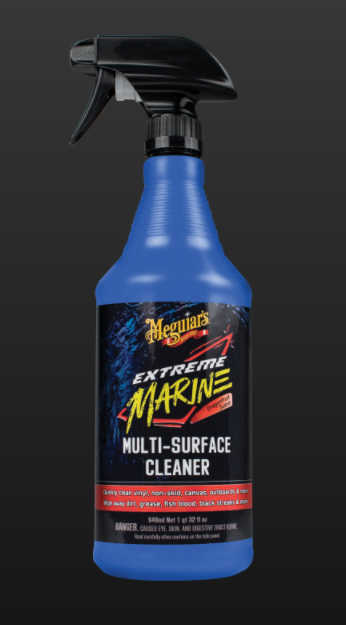 Meguiar's is another well known company that has been making reputable cleaning products for cars and boats for many years. They have come out with something that may be your best vinyl cleaner in their Extreme Marine Multi-Surface Cleaner. This cleaner is designed specifically for marine applications so it can handle the tough atmosphere your boat sees out on the water. Extreme Marine can also be used on multiple surfaces such as vinyl, canvas, painted surfaces, fiberglass, gel coat, and others.
Extreme Marine is safe on surfaces and will cut into grease , dirt, grime, and other foreign matter on your vinyl. Give it a quick spray and wipe down with a towel! Some tough dirt spots may require scrubbing with a brush but Extreme Marine will be sure to make quick work of it! We compiled a quick list of standout features below.
Safe on many surfaces including vinyl, canvas, fiberglass gel coat, painted surfaces and more
Quickly removes dirt, grime, grease, fish blood stains, and more
Sprays directly onto the surface to be cleaned or onto a towel to be wiped
Container Size
We like that Meguiar's Extreme Marine is a decent cleaning solution for multiple surfaces while not containing extremely harsh chemicals. It can still get the job done without being very concentrated like some commercial or heavy duty mildew removers which may make it your choice for the best vinyl cleaner. You'll want to follow up with a vinyl protectant after cleaning your vinyl to keep it in the best shape possible and keep it looking good!
---
Final Thoughts
We understand that trying to find the best vinyl cleaner can be a challenging job with all of the products out there. We hope this guide has helped you in your search and provided some insight on the capabilities of some of the products out there. Be sure to check out some of our other articles for product guides as well as educational material and how-to guides. We hope you've found the best vinyl cleaner for you!
---
Smooth Sailing Marine is powered by product recommendation partnerships.
If we have helped you in your product decision or marine project, you can help us by purchasing through our links. We thank you for your support, we couldn't be here without our awesome readers!